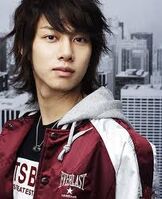 Kim Hee-chul (
Hangul
: 김희철,
Hanja
: 金希澈) was born on 10 July 1983,
mononymouly
credited as
Heechul
. He is a
South Korean
singer
,
actor
, and
presenter
. He is a member of
South Korean
boy band
Super Junior
and its subgroup,
Super Junior-T
. On 1 September 2011, Heechul enlisted for his mandatory military service. He is serving as a public service worker for 23 months, after undergoing four weeks of basic training at the Nonsan military camp in Chungcheongnam-do Province

Pre-debut
Kim was discovered at Starlight Casting System October 2002 where he auditioned with his friends. Initially, he was placed in a four-member project group called, "Four Seasons". This group included members Jaejoong, Yunho, and Kangin. They never debuted as Jaejoong and Yunho joined boy band TVXQ, who debuted in December 2003. Kim and Kangin joined ten other trainees and formed the group Super Junior 05, being the first generation of the rotational boy band Super Junior.
Other activities before his debut include modeling, acting, and VJing. He made his first appearance on TV starring in the teen drama Banolim 2. Like bandmate Kibum, Kim made his first television appearance as an actor before the debut of Super Junior. He starred in the 2005 teen drama, Sharp 2, in which he acted alongside Kibum. Not long afterwards, Kim appeared in an episode of Loveholic as a chef trainee. He was a regular MC for the cable music show Show! Music Tank.
Ad blocker interference detected!
Wikia is a free-to-use site that makes money from advertising. We have a modified experience for viewers using ad blockers

Wikia is not accessible if you've made further modifications. Remove the custom ad blocker rule(s) and the page will load as expected.